Hi,
I'm new to Csound and Cabbage and I would Like to understand if it is possible to create one tool that coded in one .txt file the audio values readed on one single cycle of a waveform…
The tool that I image has these features: the possibility to analyze cycle from Mono/Stereo file, with different Sample Rate, Bit depth and so on… the output is one file .txt with one dimension that the user have sets: 4096? or 1024?
Than, the user uses GEN23(?) to read the values or simply copy/paste these values in the GEN01 fields…
At the time of analysis, the values ​​are quantized based on the size of the final table set by the user…
In this mode all the "wavetable synth" shared are only with the .csd file.
this is only the GUI that I imagined: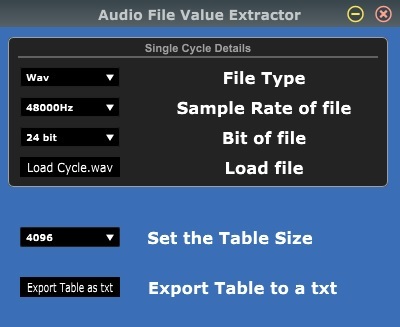 thanks, bye…