My simple 8 harm additive synth;
R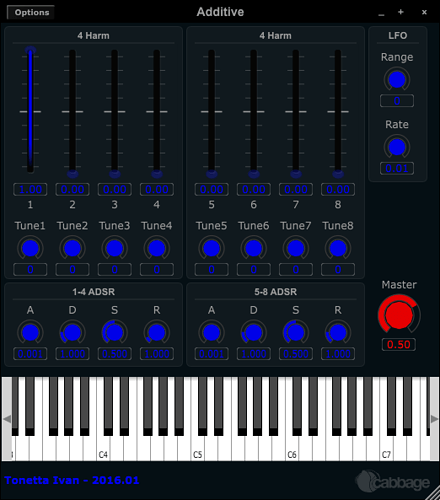 Instrument_Additive.csd (10.0 KB)
Very nice! Thanks for sharing. Apart from the beautiful sounds, I like how you have the alpha fade set on the sliders so when the mouse is not on them the slider thumb isn't visible. Nice touch!
Hi Ruben,
I like it too! I'll need one soon and was thinking about porting Iain's 30 harmonics synth to Cabbage. Your visual scheme may very well suit that one.
Cheers.
thanks for your compliment !
I think that when the code is written in a simple (4 all users), linear and clear mode, you will get more results!
you who are experienced, you can help us that we must learn Cabbage/Csound
thanks, and see you next!
(and sorry for my english!)
R
You should be ble to add .7zip, zip, and rar files now. Thanks.
Hi,
I rewrote the code and added enhancements: presets manager and LFO button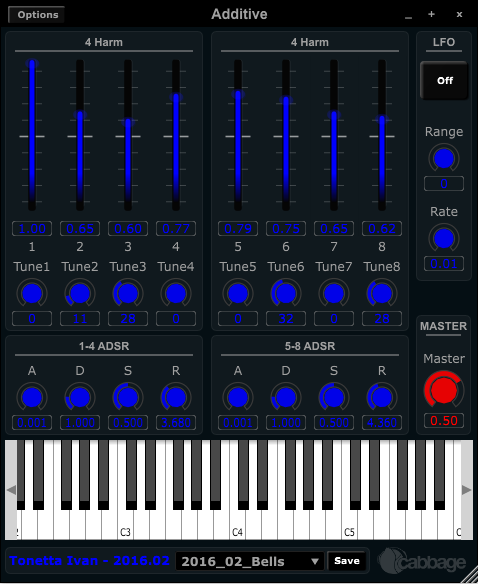 Tonetta Ivan - Additive 101.zip (7.0 KB)
R
Your zip file won't open for me here? You should now be able to upload .7z files, but I recommend using .zip as it's the most commonly used file archiving format across all operating systems. Maybe you can re-up your .zip?
I changed the extension file .7z to .zip…

this don't work!!!
Try now, I remaked the archive with .zip extension…
many thanks,
R
That works! Very nice presets here. It's very nice to be able to quickly browse through sounds in this way.