(continued from [FIXED] Chnset not working Cabbage-wide)
To summarize, when JACK is selected as the audio device, JUCEJack doesn't seem to talk properly to the rest of the JACK environment. It doesn't have the option to connect out to system; on both of the computers I've tried this on, it only lists the PulseAudio JACK sink as an output option, but doesn't actually output audio to it if that option is selected. Its appearance in the patchbay (Catia, in this case) is strange, with only stereo in and no out. Because of this, I am unable to get sound out of Cabbage through JACK (or at all, right now, since the other option ALSA doesn't seem to want to send sound over HDMI which is the only way I can get it).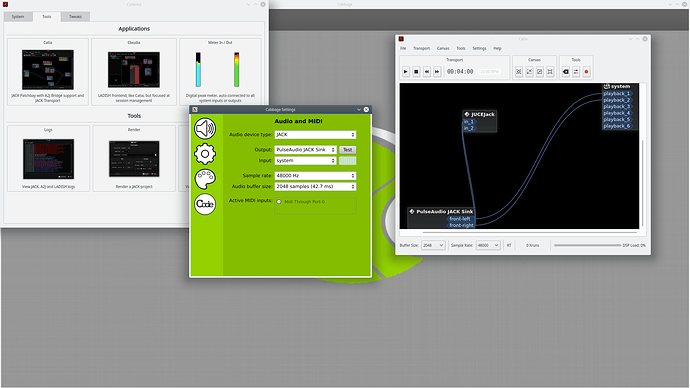 I'm using Cabbage compiled from commit b6b814b, Csound compiled from commit 94f0ca6, Cadence v0.9.0 with the ALSA -> PulseAudio -> JACK bridge, and Arch Linux with kernel v4.17.2.