Finally after months and months of work I can finally release the version 1.0 of the synth that I built together with the Kernelpanik Sound crew and BitNet01. I wanted to thank Rory for always answering my questions clearly and for creating Cabbage. This is KlownWave: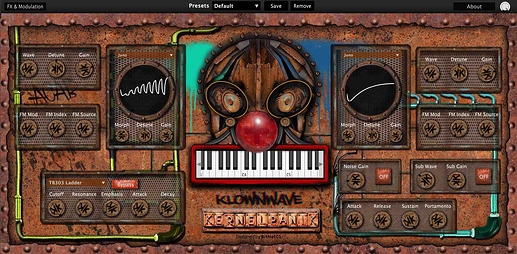 I managed to make the Installer for both macOS and Windows. And I can say that without having signed any binary on M1 it works perfectly by starting the DAW with Rosetta2 enabled (Tested in 2 differents M1 with Monterey)
On M1 despite all this graphics and animations consume on 2% … on my poor intel i5 with 8 gb of ram it eats 15% of cpu. Maybe if there are tips on how to reduce consumption it would be the top. For now I am satisfied
Here you can find the repository
Here you can find the installers with a donation form
there are still lots of things to do, like create lots of presets and write a minimal manual of how it works, in the meantime I'd be happy to hear your feedback!
Features:
2 x Wavetable Oscillators with

6 x Wavetable Set with 16 morphable waves each

2 x Analog-like Oscillators (Saw-Ramp-Triangle)
2 x FM module with morphable source (between different harmonics in sine waves)
1 x White Noise
1 x Filter module with envelope and types:

TB303-like lowpass filter with resonance
Moog-like lowpass filter with resonance
Steiner-Parker lowpass filter with resonance
Steiner-Parker highpass filter with resonance
Steiner-Parker bandpass filter with resonance
Sallen-Key lowpass filter with resonance
Sallen-Key highpass filter with resonance

1 x Sub oscillator (1 octave down) with different waves (sine, triangle, saw, square)
1 x Envelope with portamento
1 x Modulation matrix with:
8 x LFOs (sine, triangle, saw, ramp, square, random)
9 x Destinations (Morph WT1, FM Mod 1, FM Index 1, Morph WT2, FM Mod 2, FM Index 2, Cutoff, Resonance, Emphasis)
6 X Effects (Thanks to Ian McCurdy's collection)

Distortion
Chorus
Flanger
Phaser
Delay
Reverb