Requirements :
Microsoft Visual studio 2017 community edition.
ASIO and VST SDKs from STEINBERG
JUCE + Projucer
Csound
and of course Cabbage 2 !
Install :
STEP 1:
-Install Git
STEP 2:
Open a bash GIT.
Clone the repo of JUCE/ projucer
git clone https://github.com/WeAreROLI/JUCE JUCE
Go to the directory …\JUCE\extras\Projucer\Builds\VisualStudio2017
Open Projucer.sln (double click should be sufficient to open the file with MSVS
If you do not have an account in PROJUCER and want to use the GPL version (read the license terms http://www.juce.com/juce-5-licence), edit the file AppConfig.h and set the following variable to 1.
#define JUCER_ENABLE_GPL_MODE 1
Build the Projucer. Menu : Build -> Build Solution
You should get Projucer;exe ready in ./x64/debug/app/
**STEP 3: **
With Bash GIT, clone Cabbage.
git clone https://github.com/rorywalsh/cabbage/ Cabbage
Start PROJUCER and open the file CabbageIDE.jucer
File->Global Search Path, check that the path are compatible with your installation
Check that the target is set to Visual Studio 2017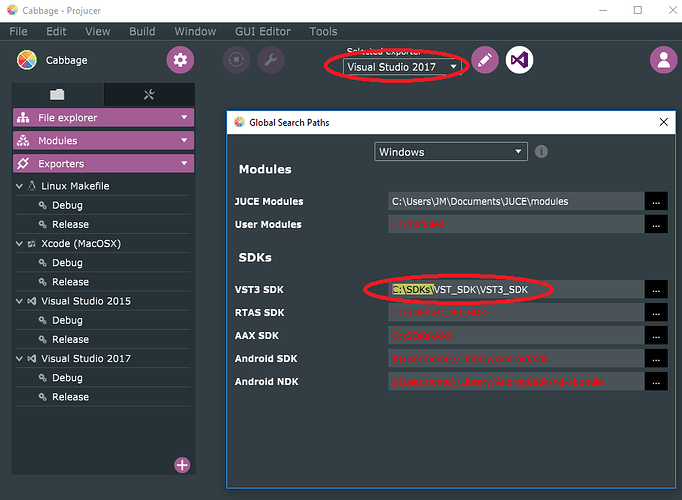 Click on the Module drop down menu and check the path of each of the modules.
-Now check the exporter and the path to Csound and VST SDK. Adapt them if necessary, accordingly to your system. Repeat for the release version if youplan to compile the release version of Cabbage.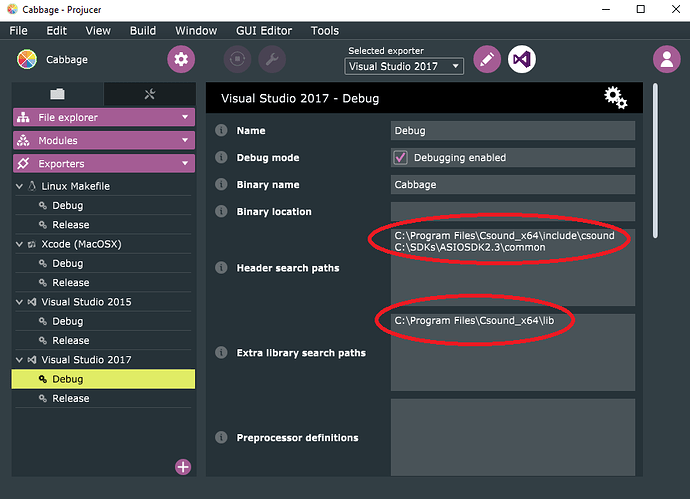 -Save the project with menu : File->Save.
In Cabbage\Builds\VisualStudio2017 directory, open the MSVS project Cabbage.sln
And build it, either for release or for debug.
After a while ( get a coffee or a tea), your brand new Cabbage should be ready.
-Repeat the same steps for the other .jucer files.
Attention, after the compilation of the CabbagePlugin.jucer, you need to rename the dll : CabbagePluginEffect.dll and after compilation of CabbagePluginSynth.jucer, rename the dll: CabbagePluginSynth.dll
Hope this helps the ones who wants to help and test the everyday improved cabbage.