Hi Rory, and other Csound/Cabbage gurus,
I'm experiencing some obscure and very rare crashing of my VST3 instrument. I think it is likely related to a Csound crash and not Cabbage? However, I'm looking for feedback, advice, guidance on what could go wrong and how I could find out or prevent crashes.
I have used the instrument in question in the past, recorded several hours of playing with it (VST version) in Reaper. Recently I switched to M1 mac, did some minor mods (simplifications) to the instrument and exported VST3. I've done some practice sessions with it, maybe 10 hours and had it crash perhaps 5 times, so maybe ones per hour or two of playing. This makes it very difficult to debug. I have 2 different instruments running in Reaper and only the one in question crashes, Reaper handles this well without crashing the hole session. To bring the instrument back to life I had to reload the plugin.
I'm posting a waveform screen-shot from a recording during crash (after about one hour recording without issues), where you can see the numbers escaping out of range. They were caught by the Reaper limiter though.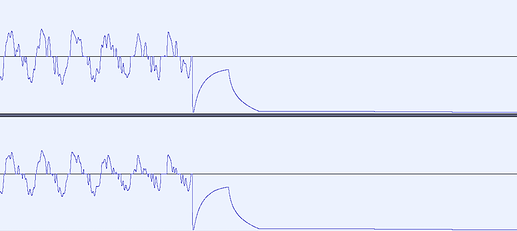 It seems this might be related to amplitude values getting out of range. I can't see any obvious mode/behaviour of my instrument that would lead to this. I'm using chnget and chnclear if that matters.
Would you have any suggestions how I could debug this, would such an event be logged anywhere when running VST3 in host, could the issue be exclusive to VST3 and not VST for any reason, would there be a way to handle/catch such issues with Cabbage/Csound so that the plugin wouldn't crash (even if I'd get pops and dropouts that would still be better than the current crashing terror)?
Any ideas would be appreciated. Great learning from you guys!